I picked up a beauty of a 2-pound red Hubbard squash in November, and it has been hanging around my kitchen ever since. Obviously, it's a good keeper, but Autumn is long gone, and I've been thinking about a smoky soup flavored with chipotles, those smoke-dried jalapeños I like to pick up at The Spice Corner in Philadelphia's Italian Market.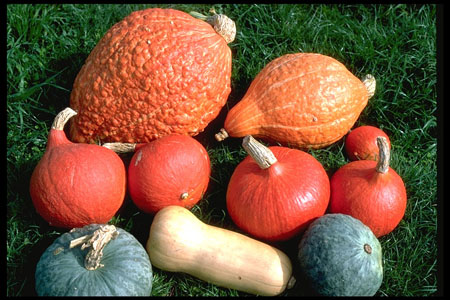 Red Hubbard Squash, center row
Hubbard squash has a tough shell of a skin, so I baked the squash at 350F for about an hour while I helped out with a science fair project. At that point, it was easy to cut the squash open (watch out for the escaping steam), scoop out the seeds and strings, and peel the skin. Maybe, if I had let it go longer, I could have scraped the flesh out of the skin.

I discovered that the red Hubbard squash has a very orange firm, mild-flavored flesh, not very pumpkiny at all, drier than most winter squashes, with a flavor something like roasted chestnuts, though not as sweet. Perfect for those family members who are not big winter-squash fans. That 2-pound Hubbard gave me about 4 cups of cubed squash, weighing 1 1/2 pounds. I modified a recipe for the Ritz-Carlton's Chipotle Carrot soup (from the Philadelphia Inquirer's former Sunday Magazine). I added white beans and a little bit of cumin.
The chipotles in their soaking water smelled like Lapsang Souchong in the kitchen. The squash and cumin added a warm note. The soup was delicious with a sides of cooked kale and vinegared red cabbage slaw. But I learned a lesson -- three chipotles is just a bit too much for the young children in the house. I served them emergency rations of cheese on bread, and ate their leftover soup myself. So the official version of this recipe now calls for only one chipotle. If I want more heat, there is always Bufalo.
Chipotle Squash Soup

This rich, smoky soup is made from mild-flavored Hubbard Squash, and is delicious served with cooked greens.
Recipe By: Family Nutritionist
-= Ingredients =-
1 whole Dried chipotle ; (3 if you can take the heat)
2 teaspoons Olive oil
1 medium Onion ; diced
1 teaspoon Cumin
1 1/2 pound red Hubbard squash, cubed
4 cups low-sodium Chicken broth ; warmed
15 1/2 fluid oz Canned White beans
pepper ; to taste
-= Instructions =-
Break stem(s) from pepper(s) and remove seeds. Soak dried peppers in enough warm water to cover.
For 1 1/2 pounds squash (about 4 pounds cubed), start with a 2-pound Hubbard squash. Bake squash in 350 degree oven for at least one hour, or until skin is tender . Halve squash, scrape out seeds, and peel with a paring knife or scrape flesh from skin.
Heat oil over medium heat and add onion, stirring frequently until caramelized, about 10 minutes. Add squash and peppers and their liquid. Add broth, bring to boil and reduce to simmer, covered for 30 minutes or until squash and onions are tender.
Drain beans. Add 1/3 to 1/2 to soup. Puree soup in until smooth. Season with salt and pepper. Add remaining beans. Serve hot with cooked greens.
Quick-cooking variation:
Substitute 1 1/2 pounds of canned pumpkin or winter squash for the 1 1/2 pounds of Hubbard squash. Cook soup for 10 minutes before pureeing.
Nutritional Summary
Each (1 cup; 240g) serving contains:
Cals: 107, FatCals: 15, TotFat: 1g
SatFat: 0g, PolyFat: 0g, MonoFat: 1g
Chol: 0mg, Na: 207mg, K: 451mg
TotCarbs: 18g, Fiber: 4g, Sugars: 1g
NetCarbs: 14g, Protein: 7g
Food Group Serving(s)
DASH: Vegetables: 1.1: Fruits/Juices: 0.0: Dairy: 0.0: Grains: 0.0: Meat/Fish: 0.1: Seeds: 0.1: Fats: 0.1: Sweets: 0.0
USDA: Vegetables: 0.6: Fruits/Juices: 0.0: Dairy: 0.0: Grains: 0.0: Meat/Fish/Seeds: 0.5: Fats: 0.0: Sweets: 0.0